The Indian government is increasingly cracking down on journalists critical of Prime Minister Narendra Modi. The country, which once took pride in having a media landscape that was diverse in nature, has been moving in the opposite direction in recent years.
Rana Ayyub, a prominent investigative reporter, Washington Post columnist and a frequent critic of Modi's government, often draws the ire of Hindu right-wing politicians. She's faced online harassment, death threats, and India's judiciary system for her work as a journalist.
"There is nothing like press freedom in the world's largest democracy of 1.3 billion people," she told Morning Edition host A Martinez. "Most of the mainstream media is literally repeating the government's lies and the ones who are independent, who are critical, are paying a price."
India's ranking on the World Press Index fell to 150 out of 180 countries, according to Reporters Without Borders.
In March 2022, Ayyub was stopped at Mumbai airport from boarding a flight to London to give a speech about online violence against female journalists organized by the International Center for Journalists. Indian authorities barred her from leaving the country because of an ongoing investigation into alleged financial crimes.
India's Enforcement Directorate, which is tasked with enforcing the country's economic laws, filed charges against Ayyub under the anti-money laundering law in October. The agency alleges that Ayyub has used more than $324,000 (Rs 2.69 crore) publicly raised funds for herself. Ayyub has publicly denied any wrongdoing.
Ayyub gained prominence through her investigative reporting on the 2002 Gujarat communal riots. She showed how the state government's lack of reaction led to over 1,000 fatalities, the great majority of whom were Muslims.
She continues to raise her voice and speak out against the government's tactics, even though she knows she might be persecuted for it. In a conversation with Morning Edition's A Martinez, Ayyub talked about what it is like to be the recipient of digital threats, India's mainstream media, and how journalists can fight back.
On facing death threats, online harassment and legal challenges
In 2018, a fake pornographic video clip featuring Ayyub's face was circulated on WhatsApp. The video caused widespread public outcry. Last January, Ayyub received over 26,000 responses to a tweet criticizing Saudi Arabia's role in the war in Yemen, many of which contained death and rape threats.
Journalists should only worry about reporting the stories and not becoming the story themselves. We have become the stories in the new India that we live in.
"The harassment against me has been more than a decade long, from my image being morphed into a porn video and circulated all over the country to being charged in a money laundering case, which I'm going to face now once I arrive in India. I received a court summons a month ago […] for an article I wrote in 2009, and I have to appear on January 28th, […] and the accusation against me is that I'm a practicing Muslim and hence prejudiced in my reportage. There are multiple cases against me for my tweets, for my appearances on news channels. Everything that I say oftentimes gets converted into a case, so […] I head into an uncertain future."
"At this point of time, I worry about every single person, especially independent journalists in India, who are putting everything at risk to fight that battle. Journalists should only worry about reporting the stories and not becoming the story themselves. We have become the stories in the new India that we live in."
On Modi's refusal to answer journalists' questions
"Mr. Modi has been in power since 2014 when he assumed the role of the prime minister of India. Until today, […] he has not had a single press conference. When he travels to a country, he does not do joint press meets. He does not take questions from the media even internationally, because he knows that a lot of questions will be critical, especially about the attack on minorities, on the 220 million Muslim minorities in India. He has not taken any questions, except for interviews that he gets done by say, some Bollywood superstar, who's going to ask him something like, "how do you like to eat your mangoes? Do you like to peel them or slice them?"
There are many journalists who are being arrested, silenced. They can't tell their stories. They're being murdered. Kashmiri journalists are being arrested under the Public Safety Act.
"There is nothing like press freedom in the world's largest democracy of 1.3 billion people. Most of the mainstream media is literally repeating the government's lies and ones who are independent, who are critical, are paying a price. There are many journalists who are being arrested, silenced. They can't tell their stories. They're being murdered. Kashmiri journalists are being arrested under the Public Safety Act."'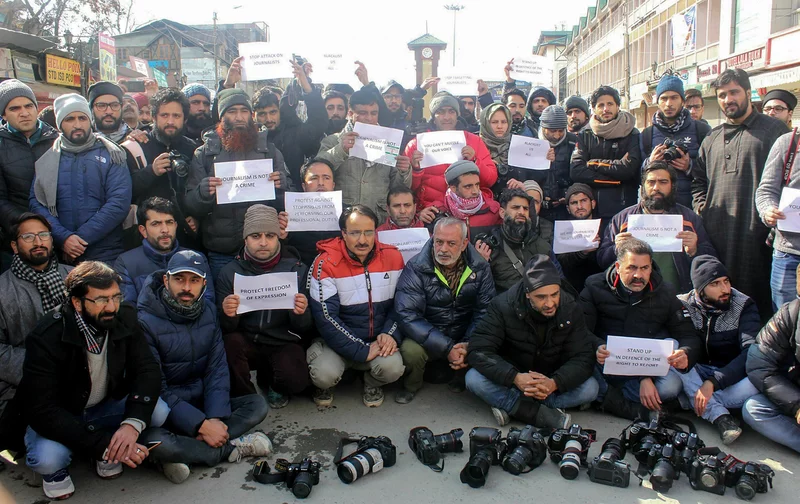 On the impact of online disinformation
"We have news anchors reading out government pamphlets and demonizing journalists and critics every day. The Indian population is basking in that, but few of them are complaining because there is a culture of disinformation. We have Whatsapp, Facebook and Instagram where fake news becomes the norm, and some of us are being demonized."
"Indian news channels are becoming platforms for hatemongers. These have become platforms that look the other way as hate is being spread all over India. Yesterday, one of India's ruling party's lawmakers asked Indians to keep weapons in the house to silence minorities. The Indian population is largely consuming something that is extremely toxic."
On alternatives to mainstream media
"News channels are owned by big business houses who are bending over backwards to accommodate the views of the government. So to protect their own interests and their platform, the journalism platforms end up becoming a mouthpiece for the government. Most newspapers in India are dependent on revenues and ads from the government."
With Elon Musk and Twitter censorship, Indian journalists find themselves in a position where on one side we have these media moguls who own these publications, who own these houses and who are censoring them, and the gatekeepers who are censoring them to protect the government
"Some of the most biggest stories in India are coming from people who are not backed by journalism organization, but by independent press. The real stories are coming from the international press and independent news media in India. […] In the absence of gatekeepers, social media has allowed citizen journalists to report stories of communal violence and genocidal calls."
"So now with Elon Musk and Twitter censorship, Indian journalists find themselves in a position where on one side we have these media moguls who own these publications, who own these houses and who are censoring them, and the gatekeepers who are censoring them to protect the government. And on the other hand, what available platforms that they had are been taking away from them. "
Source : NPR