NEW DELHI: Even if the government puts up cameras in all corners of Delhi, such an effort will not amount to much until men pledged to make the city safe for women, said chief minister Arvind Kejriwal at the International Women's Day awards ceremony organised by Delhi Commission for Women (DCW) on Saturday.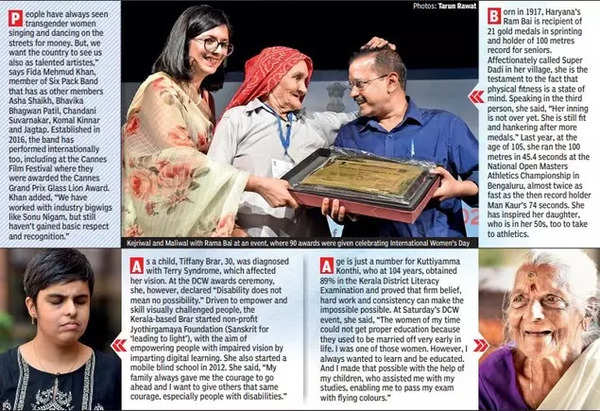 Speaking at the event, Kejriwal said that DTC buses being driven by women had become a picture of women's empowerment and employment. Many people think women cannot drive buses, but they can now see them not only operating buses, but also flying planes, he said.
"Today, there are 34 women bus drivers in the city after we began a programme to hire them. Because a heavy vehicle licence costs Rs 12,000-15,000, we give the licence free to encourage more women to take up heavy vehicle driving. When I asked these women drivers how they were liking their job, they all said they were enjoying it."

The CM added that Delhi government also deployed women marshals for the safety of women on the buses and installed CCTV cameras too. "Many women on social media have expressed how safe they felt on DTC buses now. They claimed to be hesitant to use the buses earlier, fearing harassment. But now, the marshals can be alerted if they face any harassment," said Kejriwal. "I am glad our experiment was successful."

Speaking about installation of CCTV cameras across the city, Kejriwal said, "In the last five years, we have installed CCTV cameras on a mega scale. Now, Delhi has the highest per square metre presence of CCTV cameras in the world, more than in New York and Paris. This is to make women feel safer. But even after these steps, women in Delhi are still unsafe and we have to initiate more security measures."

Talking about the recent incident of a foreign woman being molested by Holi revellers, the CM said, "If we want women to be safe, DCW, police, governments and especially society have to come together. Every man has to make it his responsibility to ensure a woman's safety," he said.
"Unfortunately in cities, people do not bother to help others. In many of these viral Holi videos, I see bystanders who are seeing women getting harassed but are not doing anything to stop it. Until all men make it a jan andolan to make women feel safer in the city, all other efforts will go to waste. We have to change our way of thinking."

Congratulating DCW for its work, he said this annual award had become prestigious and people looked forward to receiving it every year. He added, "This day is about celebrating women's power. Age is merely a number – that is what we are witnessing at this event, with someone like 104-year-old Rama Devi and 106-year-old Kuttiyamma winning medals at their age. This makes me think that I have done nothing till now. I salute all these women."
Women officers from the Indian Army, navy, air force, coast guard, BSF, CRPF, CISF, BRO and Delhi Police were also honoured at the event, which was also attended by DCW chairperson Swati Maliwal. Kejriwal also felicitated women scientists, sportswomen and social institutions. Families of many martyrs were also present.
Source: Timesofindia