Most dinner tables during the festive period are booked out, but there's still a chance to do lunch.
After three years of restricted dining numbers, restaurants are now finally cheering to earlier and larger bookings and close to capacity reservations over the Christmas and New Year festive periods.
Among those who are already fully booked on Christmas Day, New Year's Day, and the respective eves are: Buffet restaurant Colony at The Ritz-Carlton, Millenia Singapore;  Regent Singapore's F&B outlets such as Basilico, Tea Lounge, Manhattan and even Summer Palace; and one-Michelin starred contemporary French fine-diner Restaurant Jag. Unsurprisingly, restaurants and rooftop bars commanding a panoramic view of the Marina Bay countdown revelry is full for New Year's eve too, such as Fullerton Hotel Singapore's The Lighthouse and Fullerton Bay Hotel Singapore's The Clifford Pier and Lantern.
Mr Lewis Quinn, executive assistant manager for food & beverage at The Ritz-Carlton, Millenia Singapore said: "Public interest in dining at our outlets (Colony, Summer Pavilion and Republic) has been unprecedented. We have observed large group reservations over this festive period, with both families and companies organising festive reunions, mostly attributable to this being the first year-end holiday since the pandemic without any travel or dining restrictions on group sizes in place."
According to a spokesperson for Japanese wagyu specialist Fat Cow, reservations for the Christmas weekend began as early as two months ago. "Festive dinners are especially popular. Close to 50 per cent of the restaurant's capacity has already been reserved for Christmas Eve and 63 per cent for Christmas Day. Reservations for Christmas lunch is filling up fairly fast with almost 40 per cent of the restaurant being booked by companies wanting to celebrate with their staff."
Restaurant Jag's managing director and co-owner Anant Tyagi shared that the restaurant received Christmas bookings three to four weeks in advance. Over at one Michelin-starred Italian restaurant Art di Daniele Sperindio, the table packages that sold out first were the more expensive ones facing the Padang, which offered views of fireworks during the year-end countdown. This despite a S$200 price difference from the section facing Coleman Street and St Andrew's Cathedral, which still has availability.
Haven't made a booking for the year-end celebrations yet? There's still a chance at these places if you reserve now.
Amo
This convivial Italian restaurant has spaces for New Year's Eve dinner and New Year's Day lunch. Menu highlights include artisanal antipasto platters, hearty mains as well as handmade pasta such as salt-baked Mediterranean sea bass with capers, angus short rib and strozzapreti pasta with veal shank.
Art di Daniele Sperindio
Come for the food and stay for the views. This elegant one-Michelin starred Italian restaurant perched atop National Gallery Singapore serves up five- and seven-course festive menus with dishes such as charcoal-roasted venison and dry-aged monkfish and viennetta with burnt buffalo milk, caramelised cacao nibs and whiskey.
Braci
At this one Michelin-starred Italian restaurant by Clarke Quay, Chef Matteo Ponti has a way of bringing a familial warmth to well turned out dishes, whether it is a 32-egg yolk tagliolini with bafun uni and osetra caviar or a delicious ossobuco with smoked bone marrow and Parmigiano Reggiano that has been aged for 36 months. Try them out in one of the five- and seven-course festive menus.
Fat Cow
The modern Japanese steakhouse has just launched new Chef's Table Omakase menus, giving the perfect excuse to indulge in premium beef such as the Miyazaki A4 Wagyu and Satsuma A4 Wagyu Beef Tenderloin served yakiniku-style. The restaurant has also brought in the "Queen of Wagyu"  Matsusaka Wagyu that can be ordered as steak cuts or in a donburi for a limited period.
Gemma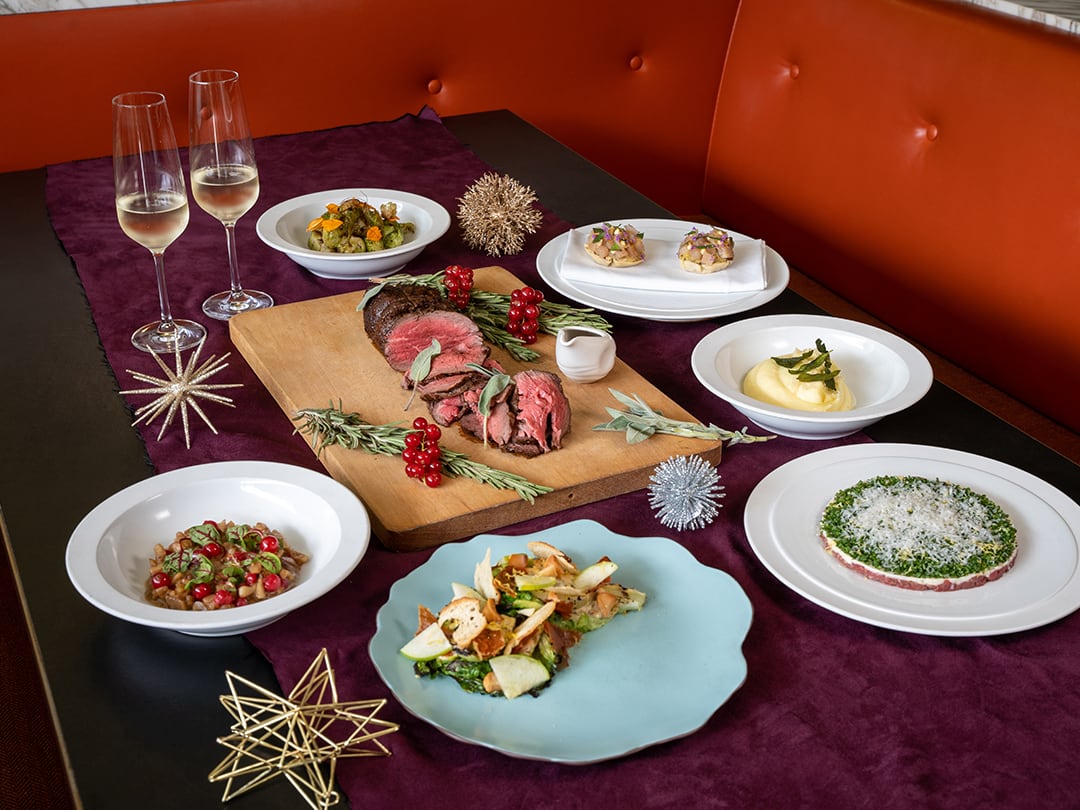 The Italian steakhouse's four-course festive menus are best shared among four to five persons. From handmade pasta to gorgeous meat slabs such as a T-Bone Fiorentina that has been aged for 30 days and a barley-fed beef roast, it will be one satisfying meal you won't forget.
Nobu
Opulence reigns in the Festive Omakase (available from Dec 20 to Dec 30) with fresh premium ingredients such as Josper-grilled A5 Japanese Wagyu Beef and the Singapore-exclusive Chilean Sea Bass Spicy Miso. Take it up a notch with the New Year's Eve Omakase, which covers all the indulgent bases from a sea urchin and caviar appetiser to a Scallop and Foie Gras Vanilla Miso before finishing off with desserts and champagne.
Restaurant Gaig
A few tables are still available for lunch on Christmas eve and New Year's eve at this Catalan restaurant. Check out the Christmas specials such as stuffed pularda (spring chicken) with pork belly, stuffed baby squid stew and monkfish with salsa verde and cockles.
Revolver
Rosemead
Christmas dinner specials at this Californian restaurant with chill vibes include whole roasted baby chicken, Iberico pork tomahawk and wagyu rib steak that are good for sharing among two to four persons. On New Year's eve, the restaurant only serves a four-course menu with dishes such as smoked salmon mousse, their famous irresistible maple-kombu shokupan, grilled wagyu sirloin and strawberry shortcake.
Sommer
The festive menu at this one Michelin-starred modern European restaurant is a lip-smacking spread: blue lobster from Brittany, ankimo tartlet with dashi jelly, tara (cod) from Hokkaido, just to name a few. Limited lunch slots on Christmas and New Year's eves are still available.
Source: CNA Luxury