Another week has flown by and you've probably already planned what takeaway it's going to be this weekend.
Like most things at the moment, it is likely people are having to fork out more money for their favourite cheat meal.
Indian restaurant owner Karim Ullah says a "perfect storm" of the Covid pandemic, Russia's invasion of Ukraine and the cost of living crisis has affected curry houses.
"Energy is horrendously high," says Karim, who runs Brohmon restaurant in Stansted, Essex.
"Then staffing costs are very high now and then you've got the pressures of the cost of living crisis [and] people with less disposable income."
A butter chicken and a chicken tikka masala are two of the nation's. favourite dishes when it comes to Indian food, but how much do they actually cost these days?
BBC Asian Network looked at the top 50 Indian restaurants as voted by diners on Tripadvisor and compared the price of those meals in cities around the UK.
Nationally, the average price of a chicken curry is £10.95 – which rises to £17.85 when you add rice, a naan and a poppadom.
The research covered the capitals of each UK nation – London, Edinburgh, Cardiff and Belfast – as well as Glasgow, Birmingham and Manchester.
It found London was the most expensive place for a curry at £12.95, going up to £20.45 with all the extras.
While the most affordable major city was Cardiff, with a chicken curry costing £9.93 or £16.78 with rice, a naan and a poppadom.
'Focus on quality'
Earlier this week, food prices saw their first monthly fall in two years and the UK's overall rate of inflation ended a run of three consecutive monthly falls.
But Karim says things like onions, which are an essential staple of Indian cooking, have shot up in price this year.
He says a 25kg bag of onions used to be £11, "and then at one stage that went up to £29".
Raja Munuswamy, who owns Nutmeg restaurant in Bristol, agrees and thinks "the cost of business has gone crazy high".
"For vegetable oil it used to be about £17 to £18 for 20 litres, now it fluctuates between £38 to £45."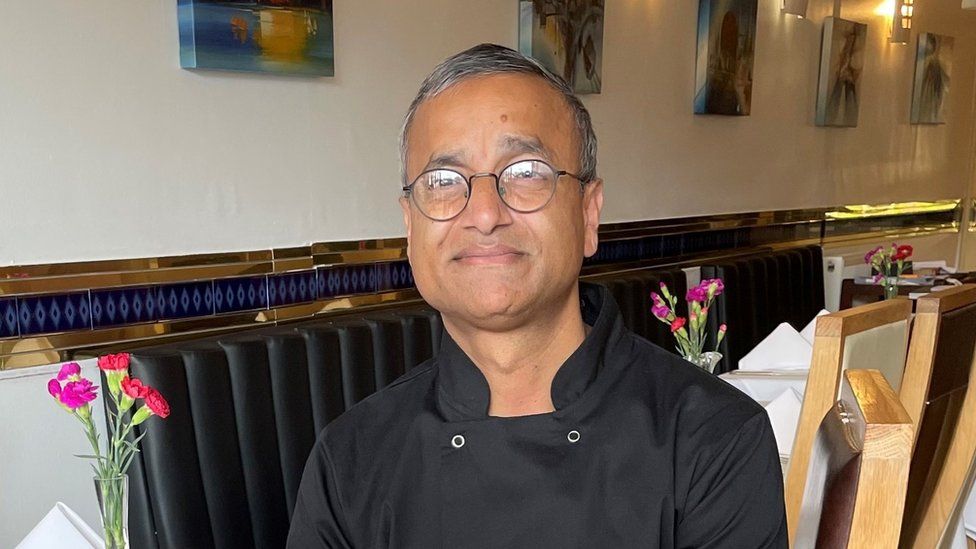 The Asian Catering Federation told Asian Network one in four Indian restaurants have closed since 2019.
A spokesperson for the federation says on top of inflation, many business owners are "retiring from the market and would not have younger family members to take over the reins" due to the nature of restaurant work.
And it isn't just curry houses that are feeling the pain.
Research from accountancy firm Price Bailey found that six restaurants have closed down a day in 2023 so far – up from four a day in the year 2021-2022.
While many restaurants have turned to raising prices, Karim says it's not the only way to adapt.
"Instead of having 100 plus items on a menu, make it so much smaller, focus on quality," he says.
Raja's restaurant focuses on regional cooking from India's 28 states and he thinks customers want new ideas and freshness.
"People are more health conscious nowadays when they want to come and have Indian food," he says.
Source : BBC